Limited spaces remain! Register below.
Fridays, 5-7pm from September 20 - November 22
Hone your logic, creativity and problem-solving skills while mastering the basics of the Python programming language. By the end of this course, you'll have created several graphically-enhanced, text-based adventure games and gained a solid computer science foundation to help you learn even more programming languages!
No programming experience preferred.
What you'll do:
Weekly challenges and activities including coding a calculator, tic-tac-toe game, and more!
Create your own text-based video games
Enhance your video games with graphics
Design and build a box to hold your game collection
and more!
What you'll learn: 
Python programming language
Principles of computer science
Principles of video game design
Math skills
How to storyboard your project
and more!
Julia is a junior at Pine View School. After taking a Java course at the Suncoast Science Center, she became hooked and taught herself other programming languages including HTML and CSS. After teaching two successful "Coding & Game Design" summer camps, Julia is eager to continue sharing her skills with more students. When not volunteering her time as a student leader at the Suncoast Science Center, she is busy with activities like Student Government, Model UN, Academic Olympics, Science Olympia. Julia is also part of the all-state choir group and serves on the board of the Sarasota United Way.
Tuesdays, 5-7pm from October 22 - November 19
Boring lectures? Memorizing principle after principle? Not in this course! Through hands on projects and challenges—like constructing ramps to determine the curve of quickest descent— you'll leave this course armed with the knowledge and tools needed to excel in high school physical science classes, exams and rigorous physics competitions.
What you'll do:
Build and analyze a Harmonic Pendulum
Construct ramps to determine the curve of quickest descent
Determine the role of math in physics
Make a custom t-shirt or other takeaway
and more!
What you'll learn: 
How to transition to high school physical science classes
Problem-solving skills
Creativity
Critical thinking
and more!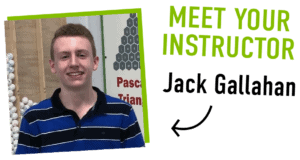 Jack is a senior at Pine View School and longtime Suncoast Science Center volunteer. In addition to his love of mathematics, he is an avid cellist. Jack founded the Music for Medicine program at Sarasota Memorial Hospital as well as the If Music Be The Food program. Jack is passionate about a creative approach to mathematics and problem-solving and believes this approach is critical to solve the challenges of the future. After leading a successful "Brainbenders" summer camp, Jack is eager to help more students tackle their math and physics understanding.