Check back in mid-February for 2023 Summer Camps registration opening date. Click here to sign up for our newsletter for the most up-to-date camp information!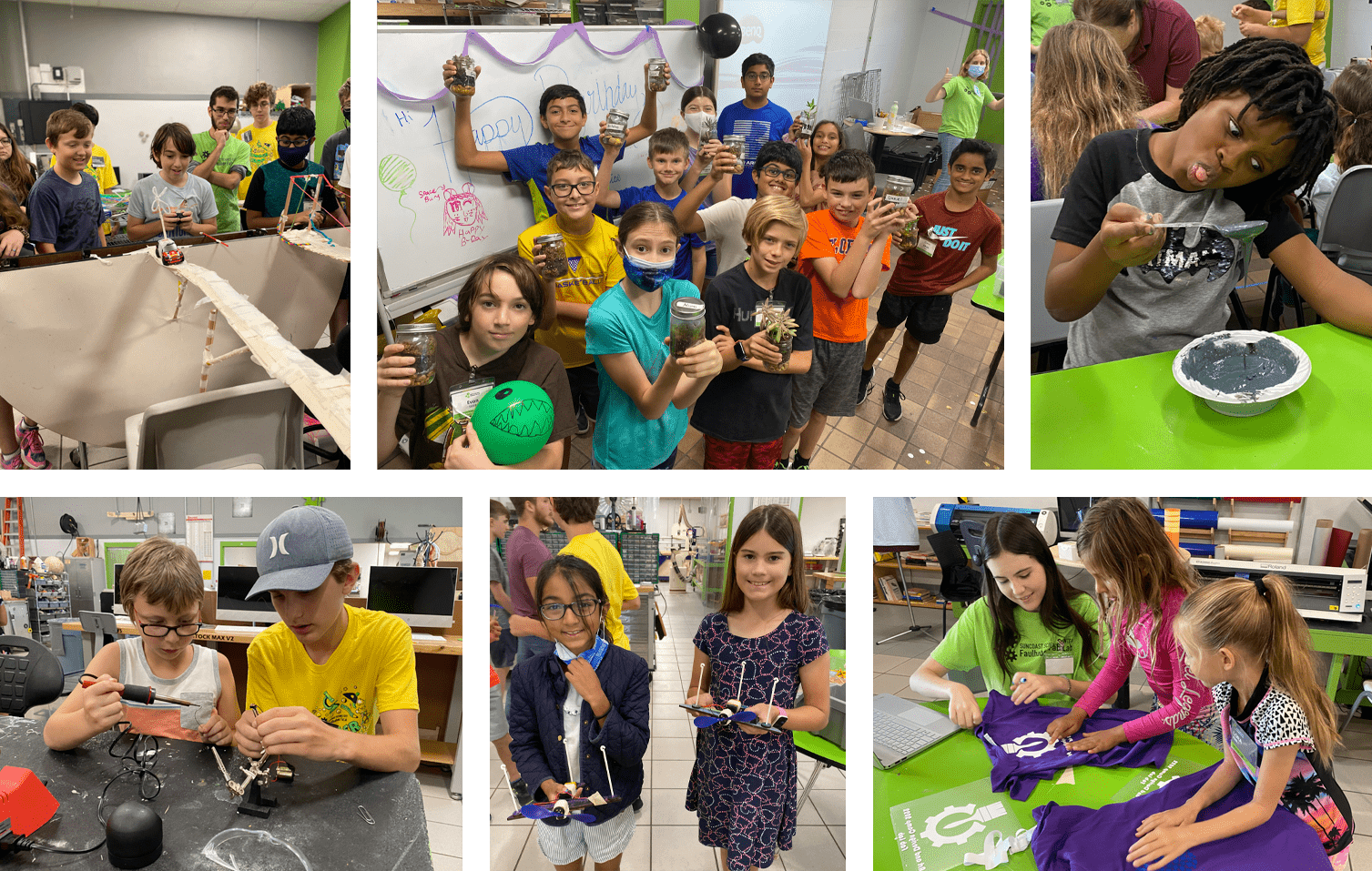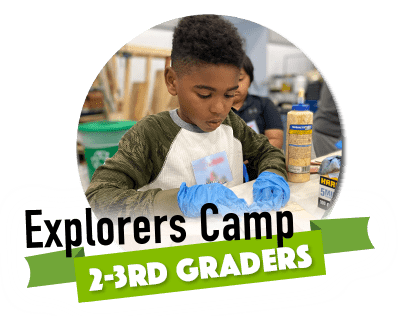 Explorers camps are all about purposeful play. Kids will have a blast playing and discovering new interests through hands on activities plus they'll make fun take-home projects using Fab Lab equipment like laser and vinyl cutters.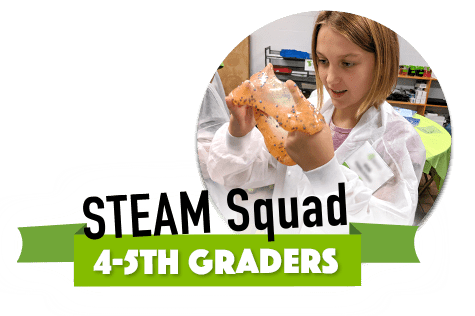 This isn't your traditional science camp... Through innovative (and FUN) activities, challenges and the use of high-tech machines, kids will level up their learning and join the STEAM Squad!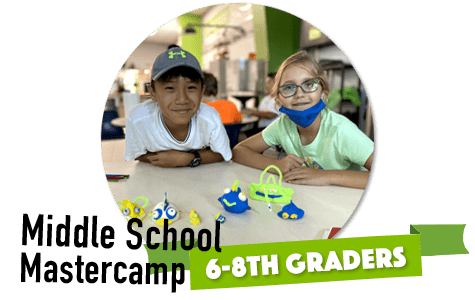 MS Mastercamps allow preteens and teens to elevate their experience and build skills that will come in handy in high school and beyond. Ready to level up your Fab Lab experience? Let's do it!
Camp and lab-wide COVID-19 policies revised 5/19/21. By registering your child in a camp session, you agree to the following policies and expectations.
Drop-Off and Pick-Up
Check-in will take place at 8:30am, outside of the main entrance located near the rear of the building. In an effort to reduce crowding, a volunteer will help you check-in your child outside so you do not have to enter the lab.
You are also required to sign your child out when picking them up at 12:30pm. Again, this will be done outside of the building and a volunteer will retrieve your child from the lab. If someone other than you will be picking up your child, please notify lab staff so that person's name can be added to your account.
General Health and Safety
Face coverings are not required for visitors, program participants, volunteers and members. We do, however, strongly encourage those who are not fully vaccinated against COVID-19 to continue wearing a face covering while in the lab. In the event a camper or volunteer does not have a face covering, we will have extras available.
Professional cleaning and sanitation of the lab is increased during the summer. Laptops, lab equipment and other tools used during camp sessions will be sanitized daily using EPA-approved cleaning products.
Antibacterial hand soap will be available in restrooms and antibacterial hand sanitizer will be available throughout the lab for easy access and use.
Dress Code
Students should wear comfortable, fitted, casual clothing and CLOSED-TOE and CLOSED-HEEL shoes. Gym or tennis shoes – NO SANDALS or FLIP FLOPS. Loose clothing and jewelry are not permitted for safety purposes and long hair must be secured.  
Snacks
Please pack a snack or lunch for your child to enjoy during the daily designated snack time. Please make sure your child brings a refillable bottle for water which they can refill at the lab.
Release Forms
Waiver, Release and Authorization forms are mandatory for your child's participation. You will be required to acknowledge these forms during registration. 
Cancelations & Waitlist
Cancelations must be made at least 7 days in advance of your enrolled camp session to qualify for a full refund. Cancelations made less than one week out from camp will qualify for a 50% refund. Cancelations must be made in writing to info@suncoastscience.org or by calling 941-840-4394. Cancelations by voicemail will not be accepted. No-shows do not qualify for a refund. If your child has to be picked up early or miss one or more days of camp, there is no refund for camp time missed.
You will NOT be charged when adding yourself to a camp waitlist. Students on the waitlist will be notified in the order they were added to the waitlist if a spot becomes available. We will notify you as early as possible by phone or email if there is an opportunity to move off the waitlist and include instructions on how to process your camp payment.
Student Expectations
For each student to have a positive, safe experience in Fab Lab summer camps, we have established the following expectations.
Walking is our preferred mode of transportation while working in the lab! Please refrain from running.
No food or drink (including candy and gum) is allowed in classroom or machine areas. Snacks you bring will be set aside for snack time.
The Golden Rule… Treat others as you would like to be treated! This means raising your hand to speak, respecting others' personal space, being considerate, kind and helpful, using appropriate language, etc.
Treat our machines and tools respectfully... like they are your own!
We have two camps running simultaneously each week. Please be sure to stay with your group at all times.
Three Strikes Policy
To reinforce these rules and encourage an appropriate and safe learning environment, we employ the "Three Strikes and You're Out" policy in relation to the above expectations.
Reminder: A reminder of our expectations will be given to the student.
Warning: The student will be removed from camp activities for a short period of time.
Action: We will discuss the behavior in question when you pick up your child. This is the student's first strike.
If the behavior continues, we will contact you by phone during camp hours to discuss. This is the student's second strike.
If the behavior ceases to stop after the first two strikes, we will contact you to immediately pick up your child from camp. This is the student's third and final strike.