The COVID-19 pandemic brought an unprecedented occurrence to our organization, community and the world. No one could have prepared for the rapid devastation it has continued to deliver. Rather than sitting on the sidelines, we took a proactive approach to galvanize hundreds of student and adult volunteers and utilize our specialized equipment and resources. At a time when it is easy to feel alone, helpless and defeated, we have been energized by creating a safe way to encourage hundreds of volunteers, community leaders and philanthropists to join us in our endeavor to protect the community. Here's how we've supported and continue to support our community during the COVID-19 pandemic!
COVID-19 Face Mask & Shield Project
As the number of COVID-19 cases began to grow in March 2020, the supply of Personal Protective Equipment (PPE) provided to healthcare workers to use while caring for patients during the pandemic was extremely limited and rapidly declining each day. In an effort to protect local healthcare workers and patients and slow the spread of the coronavirus, we shifted our work to design, prototype and fabricate face masks and shields. With help from over 260 adult and student volunteers, our COVID-19 Face Mask & Shield Project was a huge success!
2,521 face masks and 2,351 face shields were produced for workers in need
Volunteers poured at least 62,000 hours into the project
45 healthcare facilities, first responding organizations, doctors' offices and nonprofit organizations were provided 

protection

Over $40,000 was raised to support the project
16+ news stories about the project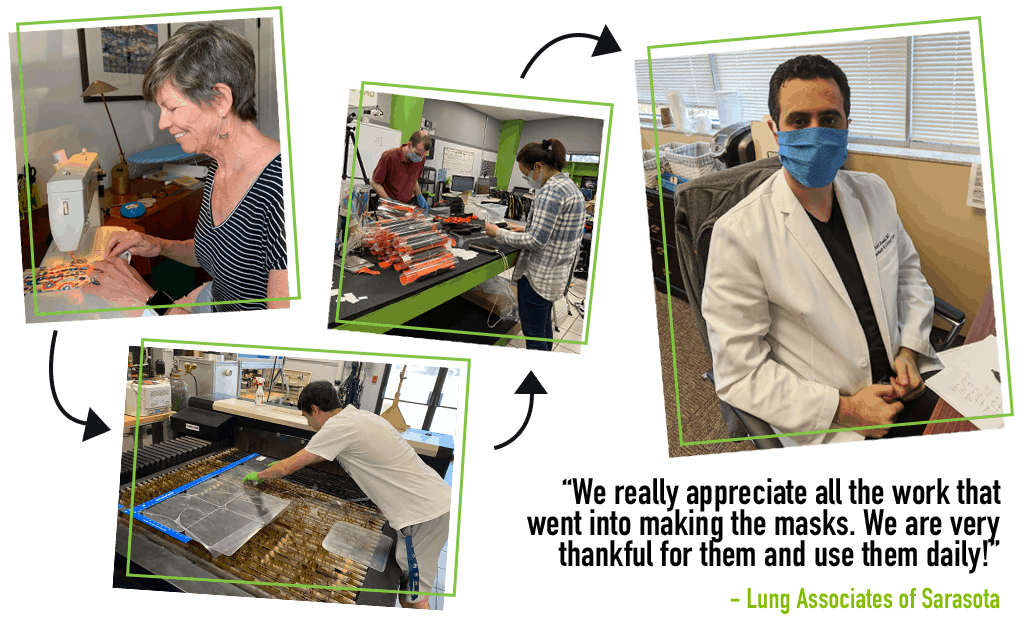 Fab Lab Blood Drive
On July 29, 2020, we partnered with SunCoast Blood Centers (SCBC) to host a blood drive and address urgent blood and platelet deficiencies. Local hospitals are relying on convalescent plasma as a first line of treatment for COVID-19 patients but there is a shortage of reserves to meet current patient needs. Many SCBC blood drives have been canceled due to the pandemic, heightening blood scarcities at a time when demand is greater than ever. With our firm belief in the power of collaboration, we knew we could mobilize the community and drive donations. And that, we did!
The drive, which brought out 71 donors, produced a total of 59 units of blood. Each unit of blood can save the lives of up to three people. The units collected at the drive have the potential to impact over 170 people who are suffering life-threatening traumas, undergoing cancer treatment or major surgery and even those critically ill with the coronavirus. Check out this highlight video created by our friend Bill Wagy!
Student Community Innovation Program (SCIP)
As access to face masks and shields increased, we shifted our successful Face Mask & Shield Project to fulfill other coronavirus concerns during the COVID-19 pandemic. Through brainstorm sessions with community leaders, healthcare experts and student volunteers, the Student Community Innovation Program (SCIP) was born. SCIP provides high school and college students with an opportunity to benefit their community in an innovative manner by developing a product or program that serves a local need. With help from experienced mentors and access to a fabrication lab, students take their idea from concept to completion!