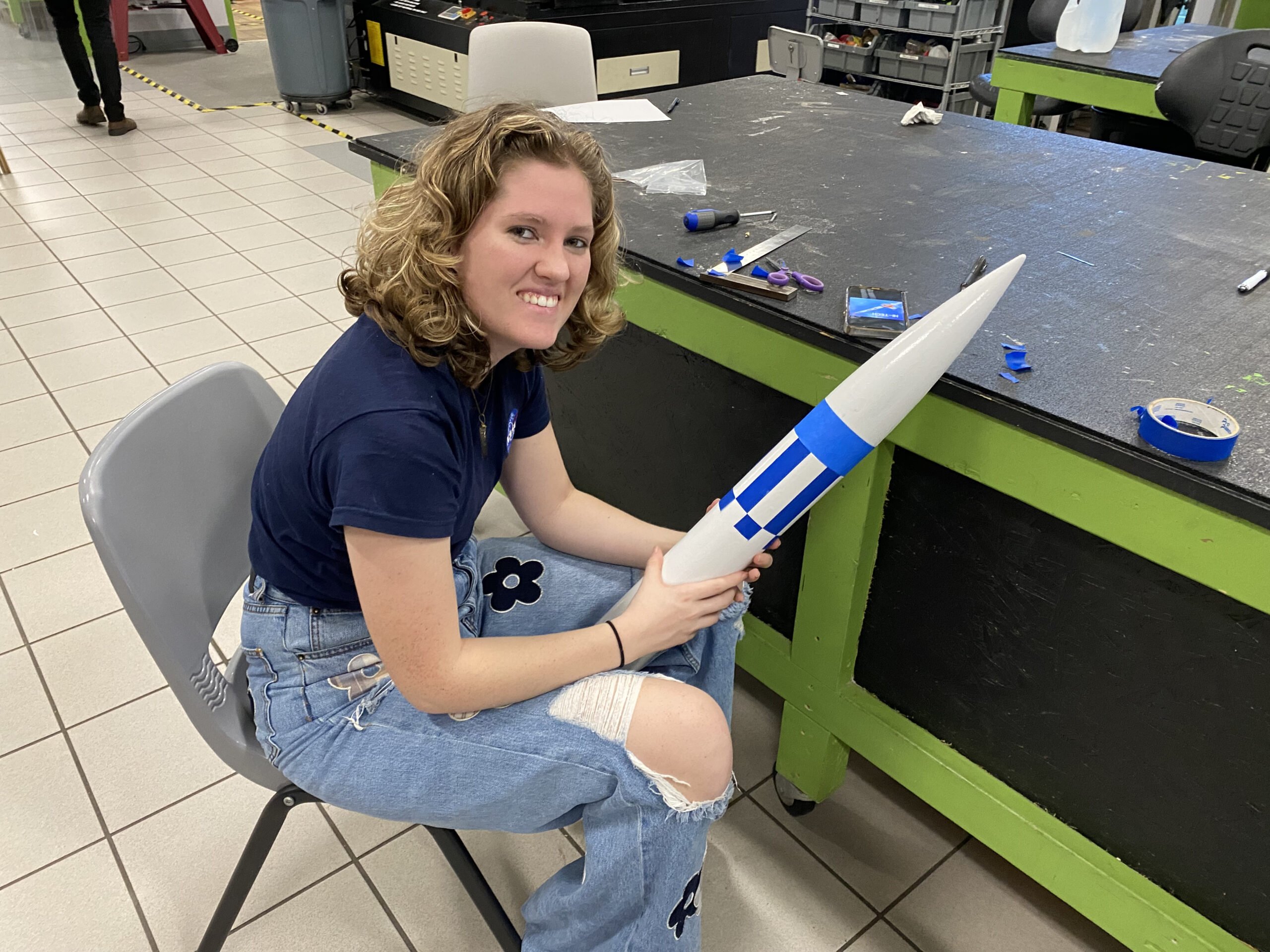 A team of 20 students who represent eight local high schools have formed a rocketry club at the Suncoast Science Center/Faulhaber Fab Lab. The club, led by Riverview High School student Sebastian Grabowski, aims to design, construct, test and launch a rocket to at least 15,000 feet. The interdisciplinary research project provides students with a real-world learning experience in the fields of physics, engineering, computer programming, chemistry, and mathematics. Sebastian proposed the idea of a rocketry club after volunteering for the Fab Lab's engineering summer camp in 2022. Sebastian moved from Poland to Sarasota in November 2020. He previously attended the Polish Military Aerospace Academy and has successfully built and launched rockets to over 2,800 feet.
"I believe that space exploration has the power to bring people together and to inspire us to achieve great things," shared Grabowski. "The fact that this project is a pioneering effort for high school students makes it all the more meaningful to me. It shows that age is not a barrier to achieving great things and that with hard work and determination, anyone can make a difference in the world."
With guidance from professional mentors, including Fab Lab board member and physics teacher Russell Finger, the students spent fall 2022 determining plans and goals, testing rocket fuel chemicals, designing the rocket nozzle and cone using computer-aided design software, and programming adjustable fins to control the rocket's flight.
"This club has helped me solidify my interest in aerospace and engineering. I plan to continue that interest in college at the University of Central Florida," added team member Kathleen Cravens, a student at Lakewood Ranch High School.
The students' efforts would secure their title as the first high school or amateur team (including collegiate groups) in Florida to launch a rocket 15,000 feet.
But to get to launch day, they need your help! Donations of any amount make a difference and will contribute to fostering the next generation of STEM leaders. Anyone interested in fueling the students' desire to launch their dreams can make a secure donation through the team's GoFundMe page: https://www.gofundme.com/fab-rocket.
In addition to monetary support, the group seeks in-kind donations of metal stock and fiberglass tubing as well as support from additional mentors in the field of aerospace and/or mechanical engineering. To get involved or learn more, please contact info@suncoastscience.org or call 941-840-4394.