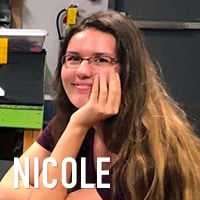 Past camps:
4th-5th Coding & Game Design with Scratch
6th-8th Coding & Game Design
I'm Nicole, a senior at Pine View School. I have worked as a support volunteer for the Coding & Game Design classes for the past two years. With a passion for art, history, and game, I help create and participate in history simulations for a variety of times and cultures such as WWI, Vikings, and the Woman's Suffrage movement.
Click here to return to the STEM Saturdays page.