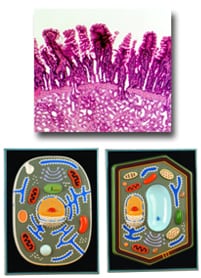 (Grades 6th – 12th) Kit includes: 5 plant & animal cell slide sets and 2 cell models for demonstration purposes.
Slide set includes 5 slides demonstrating the basic similarities and differences between animal and plant cells. Includes human cheek cells, Amphiuma liver, cork, onion bulb epidermis, privet leaf.
Cell models come with identification key and blank student identification worksheets.
Animal & Plant Cell Models:
These large models, in relief form, show every known organelle and inclusion of these two important cells. 20 structures are included in the animal cell, 23 in the plant cell. All are identified by accompanying key cards and include blank student identification worksheets.