Thank you to everyone who joined us for the 5th annual RC Custom Car Open. Click here for the 2020 winners.
Check out the recap video below courtesy of Bill Wagy Productions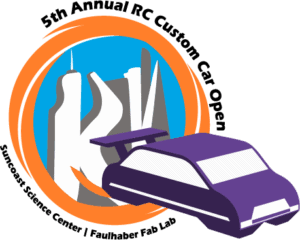 The Remote Control (RC) Custom Car Open is the Suncoast Science Center's premier community event established by a high school student committee in 2016. Students in grades K-12 participate in the program on teams of 2-4 students. Through six-weeks of hands on workshops using Fab Lab equipment and resources, they design and customize a remote control car. On race day, teams will showcase their hard work and compete in three challenge areas for prizes that include cash and scholarships.
In order to prepare the next generation for success in a rapidly-changing workplace and world, we must equip them with skills beyond just those taught in school. Through six-weeks of hands on learning, teamwork and even a few challenges along the way, RC Car students build important 21st century soft skills including collaboration, creativity, problem-solving and critical-thinking. Additionally, they learn technical skills by operating high-tech equipment available through the Fab Lab including a laser cutter, CNC mill, 3D printer and vinyl cutter.