Fall 2022 registration IS NOW OPEN! please remember to abide by grade levels when enrolling. thank you!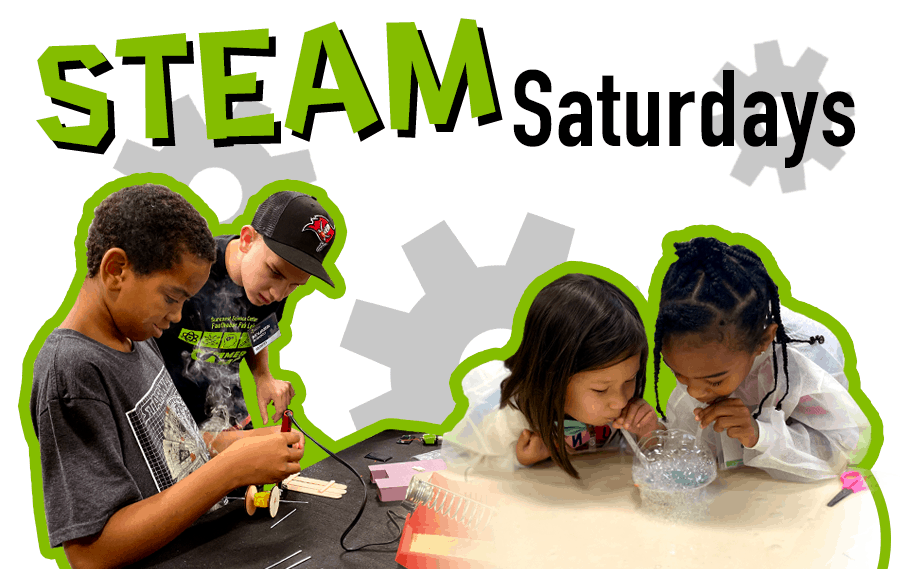 Join us every Saturday for a FUN, hands on exploration into different areas of Science, Technology, Engineering, Art and Math! Students will take part in unique activities and collaborative challenges plus create take-home projects using high-tech Fab Lab equipment like the vinyl cutter, laser cutter, foam cutter and more. STEAM Saturdays classes are developed for students, by our talented high school instructors.
Saturdays, 9:00am-1:00pm


$40 per class, includes all supplies
Please pay close attention to the grade range for each class. Do not enroll in a class if your child does not meet the specified grade.
Did you know? As a 501(c)3 not-for-profit organization, we rely on donations to operate engaging programs like STEAM Saturdays. Consider sponsoring another child to attend our programs when registering or make a general donation by clicking here. Your support makes a difference in the lives of tomorrow's innovators!
OCTOBER 2022
10/1: Coding (6-12th grade)
10/8: Space Science (2-3rd grade) SOLD OUT! Waitlist available
10/15: Battlebots (4-5th grade) SOLD OUT! Waitlist available
10/22: Architecture (6-8th grade) SOLD OUT! Waitlist available
10/29: Forensics (6-8th grade) SOLD OUT! Waitlist available
10/29: Halloween Chemistry (1-5th grade) SOLD OUT! Waitlist available
NOVEMBER 2022
11/5: Engineering (6-8th grade) Limited spots remain
11/12: Scratch Coding (4-5th grade)
11/19: Food Science (1-5th grade) SOLD OUT! Waitlist available
DECEMBER 2022
12/3: Art & Design (2-3rd grade) Limited spots remain
12/10: Web Development (6-12th grade) SOLD OUT! Waitlist available
12/10: Music (4-5th grade) SOLD OUT! Waitlist available
12/17: Aeronautics (4-5th grade) Limited spots remain
12/27-12/29: Winter STEAM Mini Camp (1-5th grade) - $150
New to the Fab Lab? For your first time registering, simply click the Get Started button after clicking the green button above and follow the prompts to add your child(ren) as "Members." Once your children are added, select "Enroll in a Program" from the "Youth Memberships" screen and choose the 2022-23 STEAM Saturdays session(s) you wish to enroll in. You will checkout on the secured site from there. Please follow the same process to be added to a waitlist. You will NOT be charged when waitlisted. If you have any questions, call 941-840-4394 or info@suncoastscience.org.
CLASS DESCRIPTIONS
Click on the class name below for the full description!
Aeronautics
Explore the science of flight as you participate in several fun hands on challenges. Can you build the fastest lasercut airplane? What about the highest launching bottle rocket? Learn about aeronautical engineering and aerodynamics as you take flight with the Fab Lab!
Architecture
Learn about blueprints, design and construction as you design and build a tiny home using state-of-the-art Fab Lab machines and tools. Through various building activities, students will explore architecture in a super fun and hands on manner!
Art & Design
Put on your creativity hat and get ready to combine art and science to bring your art projects to life! We'll use digital design software CorelDraw and make a ton of fun hands on crafts. Art class at the Fab Lab is like no other, join us!
Battlebots
The worlds of Engineering and Robotics collide in this unique camp that teaches the basics of engineering. By programming your bot to complete various challenges, you'll develop problem-solving and critical thinking skills that will help you for life!
Coding
Coders unite! Build foundational skills using the programming language Python and then code your own game, story, artwork or more! No experience needed.
Engineering
Work collaboratively to solve a variety of engineering challenges, testing both critical thinking and creative approaches to problem-solving. Bonus: Check out the high-tech Fab Lab machines in action as you design and engineer cool take-home projects!
Food Science
Ever wondered how a cookie transforms from batter to firm deliciousness? It's science! We'll uncover the chemistry, physics and biology behind your favorite foods as we learn… and maybe even test a few! Please be sure to complete the food allergy section of your child's profile so we can customize our projects to best serve everyone.
Forensics
Learn the ins and outs of forensic science by investigating a crime scene. Put on your detective hat and get ready to examine evidence and use high-tech equipment to study the scene. Hone your critical thinking and deductive reasoning skills through this immersive scenario.
Halloween Chemistry
Let's get messy with some super fun and spooky chemistry experiments! Through hands-on activities, testing chemical reactions and participating in chemistry challenges, you'll be a chem whiz in no time. Come ready to learn and leave with a few Halloween-themed lab creations!
Music
Can you hear that?! That's the sound of fun! Join us for our first Music class where we'll explore the science of music by making instruments, programming an Arduino to play piano and more!
Scratch Coding
Coders unite! Learn the basics of coding through the drag and drop coding program Scratch. You'll make your own games and gain a great foundation to move into more advanced programming languages! No prior coding experience is required to participate, just come prepared to learn and have fun.
Space Science
Houston, we have a solution! Join us to learn about planets, stars, gravity and more through hands on activities! Get ready to blast off into a world of fun and wonder during this special mission.
Web Development
Ever wondered how websites are made? This is the class for you! Learn the basics of HTML and CSS to design and build your very own website. No experience required, just a willingness to learn.
Winter STEAM Mini Camp
Chemistry experiments, robots, art challenges, oh my! During this mini-camp, we'll explore a new winter-themed STEAM (Science, Technology, Engineering, Art & Math) area. Super fun, hands on holiday activities and collaborative projects will stimulate campers' curiosity and allow them to discover their interests. $150 for three-day mini camp. All supplies and take-home projects included.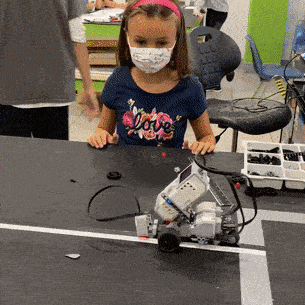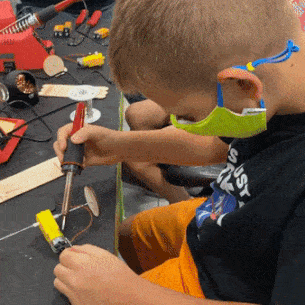 STEAM Saturdays Policies & Expectations
Drop-Off and Pick-Up
Check in will take place at 9:00am, inside the main entrance located near the rear of the building. A volunteer or staff member will help you check in your child. If someone other than you will be picking up your child, please notify lab staff at check in.
You are also required to sign your child out when picking them up at 1:00pm. Again, this will be done inside the building and a volunteer will retrieve your child from the lab or classroom.
General Health and Safety
Face coverings are no longer required for visitors, program participants, volunteers and members. We are, however, strongly encouraging those who are not fully vaccinated against COVID-19 to continue wearing a face covering while in the lab.
The lab and its machines and equipment are regularly professionally cleaned and sanitized with EPA-approved products.
Antibacterial hand soap is available in restrooms and antibacterial hand sanitizer is available throughout the lab for easy access and use.
Dress Code
Students should wear comfortable, fitted, casual clothing and CLOSED TOE and CLOSED HEEL shoes. Gym or tennis shoes – NO SANDALS or FLIP FLOPS permitted. Loose clothing and jewelry are not permitted for safety purposes and long hair must be secured.
Snacks
Feel free to pack a snack for your child to enjoy during the daily designated snack time. Please make sure your child brings a water bottle that can be refilled at the lab.
Release Forms
Waiver, Release and Authorization forms are mandatory for your child's participation. You will be required to acknowledge these forms during class registration.
Waitlists
The registration portal has the most current information regarding open spots and waitlists. You will NOT be charged when adding yourself to a class waitlist. Students on the waitlist will be notified in the order they were added to the waitlist if a spot becomes available. We will notify you as early as possible by phone or email if there is an opportunity to move off the waitlist and include instructions on how to make payment.
Cancelations
Cancelations must be made at least 7 days in advance of your enrolled class session to qualify for a full refund. Cancelations made less than one week out from class will qualify for a 50% refund. Cancelations must be made in writing to info@suncoastscience.org or by calling 941-840-4394. Cancelations by voicemail will not be accepted. No-shows do not qualify for a refund. If your child has to be picked up early, there is no refund for class time missed.
Student Expectations
For each student to have a positive, safe experience in STEAM Saturdays classes, we have established the following expectations.
Walking is our preferred mode of transportation while working in the lab! Please refrain from running.
No food or drink (including candy and gum) is allowed in classroom or machine areas unless agreed upon with staff or volunteers. Snacks you bring will be set aside for snack time.
The Golden Rule… Treat others as you would like to be treated! This means raising your hand to speak, respecting others' personal space and keeping your hands to yourself, being considerate and helpful, using appropriate language, etc.
Treat our machines and tools respectfully... like they are your own!
There may be other programs running concurrently with STEAM Saturdays. Please be sure to stay with your group at all times.
Three Strikes Policy
To reinforce these rules and encourage an appropriate and safe learning environment, we employ the "Three Strikes and You're Out" policy in relation to the above expectations.
Strike 1 (Reminder): A reminder of our expectations will be given to the student.
Strike 2 (Warning): The student will be removed from class activities for a short period of time.
Strike 3 (Action): We will contact you to immediately pick up your child from the lab. Depending on the severity of the behavior, future participation in lab activities may be impacted.
Meet your FABulous instructors
STEAM Saturdays classes are developed for students, by talented student instructors that are part of our Student Planning & Education Committee (SPEC). Click here to learn more about the program and instructors!