steam saturdays registration opens friday, september 1 at 6pm.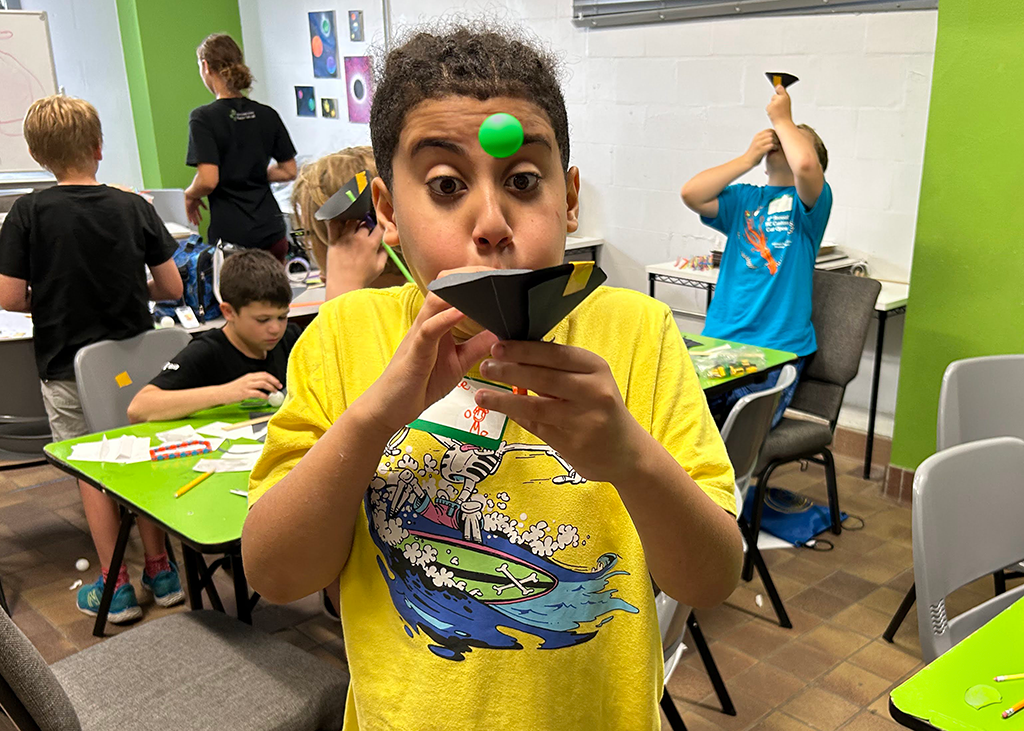 Join us every Saturday for a FUN, hands on exploration into different areas of Science, Technology, Engineering, Arts and Math! Students will take part in unique activities and collaborative challenges plus create take-home projects using high-tech Fab Lab equipment like the vinyl cutter, laser cutter, foam cutter and more.
STEAM Saturdays classes are developed for students, by our talented high school instructors.
Saturdays, 9:00am-1:00pm


$45 per class, includes all supplies
Please pay close attention to the grade range for each class. Do not enroll in a class if your child does not meet the specified grade.
October 2023
10/7: Zoology (2-3rd grade)
10/14: Architecture (6-8th grade)
10/21: Engineering: Chain Reaction Machines (4-5th grade)
10/28: Halloween Chemistry (4-5th grade)
10/28: Halloween Botany (2-3rd grade)
NOVEMBER 2023
11/4: Coding (6-8th grade)
11/4: Medicine (4-5th grade)
11/11: Paleontology (2-3rd grade)
11/11: Forensics (6-8th grade)
11/18: STEAM (1-3rd grade)
11/18: Physics (4-5th grade)
11/25: Biology (4-5th grade)
11/25: Environmental Science (6-8th grade)
DECEMBER 2023
12/2: Rocketry (4-5th grade) - Led by Fab Lab Rocketry Team!
12/2: Engineering (2-3rd grade) NEW!
12/9: Holiday Food Science (4-5th grade)
12/9: Data Science (6-8th grade)
12/16: Winter Art & Design (1-3rd grade)
12/16: Brain Benders (6-8th grade)
12/27-12/29: Winter Break Mini Camp - $150 (1-5th grade)
please remember to abide by grade levels when enrolling. thank you!
New to the Fab Lab? For your first time registering, simply click the Get Started button after clicking the green button above and follow the prompts to add your child(ren) as "Members." Once your children are added, select "Enroll in a Program" from the "Youth Memberships" screen and choose the 2022-23 STEAM Saturdays session(s) you wish to enroll in. You will checkout on the secured site from there. Please follow the same process to be added to a waitlist. You will NOT be charged when waitlisted. If you have any questions, call 941-840-4394 or info@suncoastscience.org.
Did you know? As a 501(c)3 not-for-profit organization, we rely on donations to operate engaging programs like STEAM Saturdays. Consider sponsoring another child to attend our programs when registering or make a general donation by clicking here. Your support makes a difference in the lives of tomorrow's innovators!
CLASS DESCRIPTIONS
Click on the class name below for the full description!
Architecture
Budding builders unite! Students will design and build mini structures, learn about design principles, and create model cities. Explore creativity, problem-solving, and design in a fun, hands-on environment.
Art & Design (Winter)
Grab your creativity mittens and join us as we blend art and science in a magical journey. Craft winter-themed wonders with your hands and cool makerspace machines. Join the coolest art adventure of the season – let's create frosty masterpieces together!
Biology
Embark on a journey to explore the wonders of living organisms in our FABulous makerspace. Dive into hands-on experiments, discover the mysteries of ecosystems, and learn how life works, from microscopic wonders to the grandest ecosystems!
Botany (Halloween)
Spooky plants! Creepy crafts! Do you dare step into our haunted lab for a botany class with a Halloween twist? We'll explore nature's spookiest wonders and have a hauntingly hands on time! Costumes encouraged!
Brain Benders
Who said math can't be fun?! Challenge your mind and sharpen your critical thinking as you solve logic puzzles and riddles. Learn intriguing and simple solutions to complex problems that'll trick your mind!
Chemistry (Halloween)
BOO! You'll be scared silly through the super fun and spooky chemistry experiments we'll do together! From hands on activities, testing chemical reactions and participating in chemistry challenges, you're sure to have a hauntingly good time. Come ready to learn and leave with a few Halloween-themed lab creations! Costumes encouraged!
Coding
Attention aspiring programmers! Get ready to unleash your coding superpowers in this class. Learn Python from scratch and make your own games, stories, and art. No experience is needed—just your imagination!
Data Science
Dive into the world of numbers, patterns, and insights through hands-on experiments, interactive games, and real-world projects. From decoding trends to making predictions, you'll discover the power of data in a fun and engaging manner. Join us to unleash your analytical skills and embark on a journey of discovery!
Engineering: Chain Reactions
Calling all tinkerers: Want to craft some crazy contraptions? In this Rube Goldberg-inspired class, you'll become a wizard of creative engineering, constructing ingenious contraptions that set off mesmerizing chain reactions. Turn everyday items into captivating displays of cause and effect!
Engineering
Become a mini-engineer and work with other Fab Labbers to solve fun engineering challenges. We'll use our thinking skills to solve problems and create fun projects. You might even get to see some super cool Fab Lab machines in action. Let's go!
Environmental Science
Through hands-on activities, interactive experiments, and even some outdoor adventures, you'll become an eco-explorer, uncovering the secrets of ecosystems and conservation and learning how you can help protect our planet.
Food Science (Holiday)
Ever wondered how a magical transformation turns batter into mouthwatering cookies? It's science! Join us as we explore the chemistry, physics, and biology that bring your favorite holiday treats to life. From festive experiments to merry taste tests, we'll have a holly jolly time! 
Please remember to update the food allergy section of your child's profile so we can customize our projects to best serve everyone!
Forensics
Delve into the thrilling world of forensic science and crime scene investigation as you decipher clues, analyze evidence, and unravel mysteries just like real detectives. Through hands on experiments, creative problem-solving, and teamwork, you'll examine fingerprints, decode cryptic messages, and study crime scenes. Hone your critical thinking and deductive reasoning skills through this immersive experience!
Medicine
Did you know that during the span of an average lifetime, a human will pump enough blood to fill 200 cars? The human body is capable of extraordinary things! In this class, we'll learn about the functions of the body as well as the different areas of medicine through hands-on activities and fun trivia!
Paleontology
Are you ready to time travel into our prehistoric past? In this class, you'll unearth real fossils, piece together skeletons, and travel back in time as a young paleontologist. Join us for a dino-mite adventure!
Physics
Learn about the basics of physics while creating all kinds of cool gadgets! With access to advanced machines and technology, you can invent anything that you can imagine! After all, the sky's the limit!
Rocketry
3, 2, 1, blast off! Learn about the chemistry, engineering, and electronics that go into creating rockets from the Fab Lab's Team True Fire Rocketry Team. Learn how they built a rocket that launched over 6,000 feet! Then, you will use this knowledge to build and launch your very own rocket.
STEAM
Uncover the world of Science, Technology, Engineering, Arts, and Math through immersive experiments, mind-bending challenges and creating your own projects using high-tech Fab Lab machines. From engineering marvels to artistic wonders, your creativity knows no bounds.
Winter Break Mini Camp
Chemistry experiments, robots, art challenges, oh my! During this mini-camp, we'll explore a new winter-themed STEAM (Science, Technology, Engineering, Arts & Math) area. Super fun, hands on holiday activities and collaborative projects will stimulate campers' curiosity and allow them to discover their interests.
$150 for three-day mini camp: Camp runs 9am-1pm each day. All supplies and take-home projects included.
Zoology
Let's explore the amazing creatures that inhabit our planet through interactive activities, engaging lessons and hands-on experiments. From majestic mammals to tiny insects, you'll learn the behaviors and habitats that make each species unique. Join us for a wild time!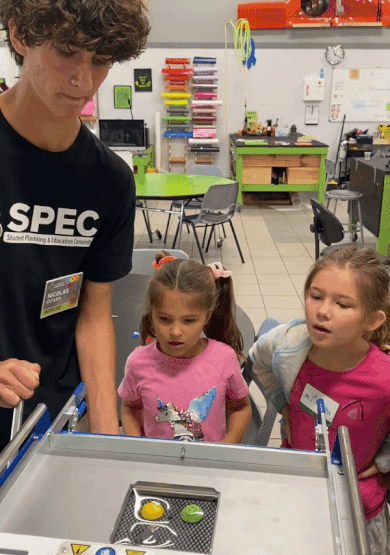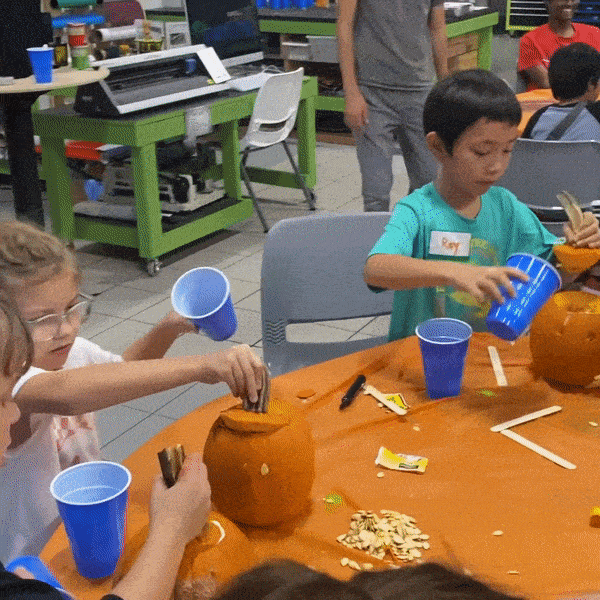 STEAM Saturdays Policies & Expectations
Drop-Off and Pick-Up
Check in will take place at 9:00am, inside the main entrance located near the rear of the building. A volunteer or staff member will help you check in your child. If someone other than you will be picking up your child, please notify lab staff at check in.
You are also required to sign your child out when picking them up at 1:00pm. Again, this will be done inside the building and a volunteer will retrieve your child from the lab or classroom.
General Health and Safety
Face coverings are no longer required for visitors, program participants, volunteers and members. We are, however, strongly encouraging those who are not fully vaccinated against COVID-19 to continue wearing a face covering while in the lab.
The lab and its machines and equipment are regularly professionally cleaned and sanitized with EPA-approved products.
Antibacterial hand soap is available in restrooms and antibacterial hand sanitizer is available throughout the lab for easy access and use.
Dress Code
Students should wear comfortable, fitted, casual clothing and CLOSED TOE and CLOSED HEEL shoes. Gym or tennis shoes – NO SANDALS or FLIP FLOPS permitted. Loose clothing and jewelry are not permitted for safety purposes and long hair must be secured.
Snacks
Please pack a snack for your child to enjoy during the daily designated snack time. Snacks WILL NOT be provided. Please make sure your child brings a water bottle that can be refilled at the lab.
Release Forms
Waiver, Release and Authorization forms are mandatory for your child's participation. You will be required to acknowledge these forms during class registration.
Waitlists
The registration portal has the most current information regarding open spots and waitlists. You will NOT be charged when adding yourself to a class waitlist. Students on the waitlist will be notified in the order they were added to the waitlist if a spot becomes available. We will notify you as early as possible by phone or email if there is an opportunity to move off the waitlist and include instructions on how to make payment.
Cancelations & Refund Policy
Cancelations must be made at least 10 days in advance of your enrolled class session to qualify for a full refund. Cancelations made less than 10 days out from class will qualify for a 50% refund. Cancelations must be made in writing to info@suncoastscience.org or by calling 941-840-4394. Cancelations by voicemail will not be accepted. No-shows do not qualify for a refund. If your child has to be picked up early, there is no refund for class time missed.
Student Expectations
For each student to have a positive, safe experience in STEAM Saturdays classes, we have established the following expectations.
Walking is our preferred mode of transportation while working in the lab! Please refrain from running.
No food or drink (including candy and gum) is allowed in classroom or machine areas unless agreed upon with staff or volunteers. Snacks you bring will be set aside for snack time.
The Golden Rule… Treat others as you would like to be treated! This means raising your hand to speak, respecting others' personal space and keeping your hands to yourself, being considerate and helpful, using appropriate language, etc.
Treat our machines and tools respectfully... like they are your own!
There may be other programs running concurrently with STEAM Saturdays. Please be sure to stay with your group at all times.
Three Strikes Policy
To reinforce these rules and encourage an appropriate and safe learning environment, we employ the "Three Strikes and You're Out" policy in relation to the above expectations.
Strike 1 (Reminder): A reminder of our expectations will be given to the student.
Strike 2 (Warning): The student will be removed from class activities for a short period of time.
Strike 3 (Action): We will contact you to immediately pick up your child from the lab. Depending on the severity of the behavior, future participation in lab activities may be impacted.
Meet your FABulous instructors
STEAM Saturdays classes are developed for students, by talented student instructors that are part of our Student Planning & Education Committee (SPEC). Click here to learn more about the program and instructors!