Join us each Saturday for a FUN, hands on exploration into different STEM areas. Students will take part in fun activities and challenges and create take-home projects using high-tech Fab Lab equipment like the vinyl cutter, laser cutter, foam cutter and more!
Registration NOW OPEN | Limited spots available 
Saturday mornings, 8:30am-12:30pm
$40 per class, includes all supplies
Classes offered for students in grades 2-12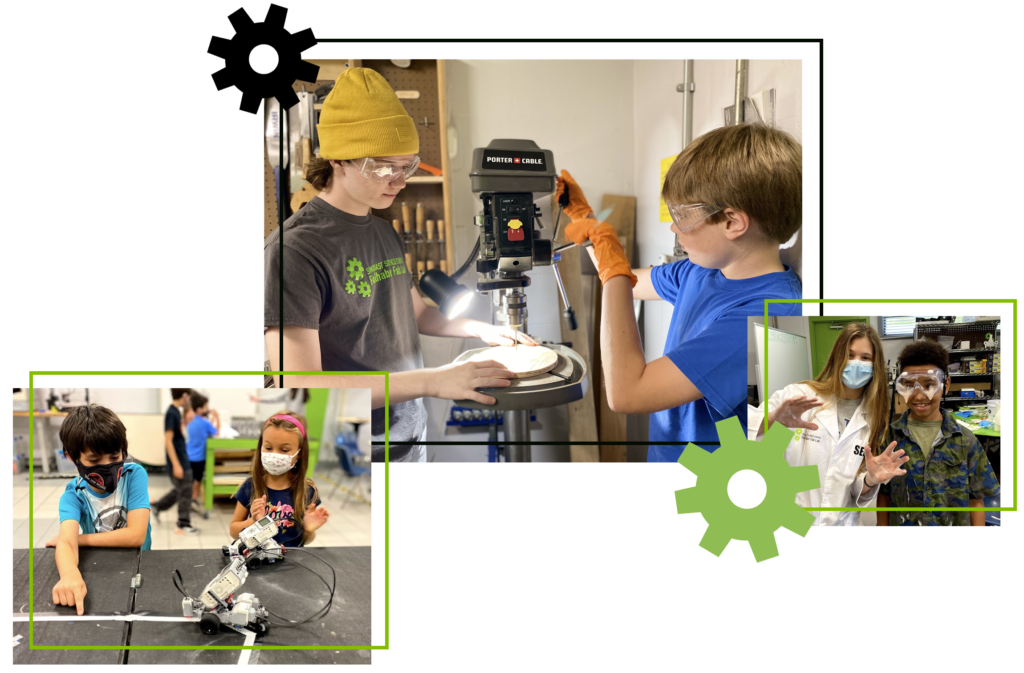 OCTOBER 2020
10/17: Rocketry (4-5th grade)
10/24: Robotics (2-3rd grade) and Robotics (4-5th grade)
10/31: Art Lab - Halloween edition! (2-3rd grade)
NOVEMBER 2020
11/7: Engineering (4-5th grade)
11/14: Coding (9-12th grade)
11/18*: Chemistry (4-5th grade)
11/21: Biology (6-8th grade)
11/28: Coding (6-8th grade)
*Bonus Wednesday class, Sarasota County Schools Professional Day
DECEMBER 2020
12/5: Music Science (2-3rd grade)
12/12: Art Lab (4-5th grade)
12/19: Math (4-5th grade)
JANUARY 2021
1/2: Music Science (4-5th grade)
1/9: Meteorology (2-3rd grade)
1/16: Coding (4-5th grade)
1/23: Electronics (4-5th grade) and Engineering (6-8th grade)
1/25*: Neuroscience (6-8th grade)
1/30: Chemistry (2-3rd grade)
*Bonus Monday class, Sarasota County Schools Professional Day
ART LAB
Put on your creativity hat and get ready to combine art and science to bring your art projects to life!
Led by: Lance Kelly
BIOLOGY
This isn't your average Biology lab! Let's build our own cell models, extract DNA out of berries, test blood types and more!
Led by: Diana Kodra
CODING
Coders unite! 4-5th graders will explore and learn about computer programming using drag and drop program, Scratch while 6-8th graders will dive into the Python programming language.
In 9-12th grade Coding, students will level up in the world data structures and problem solving by sorting algorithm visualizations. Great skill-building class and college app booster!
Coding experience not required for any classes.
Led by: Pragnya Govindu (4-5th grade) and Uday Goyat (6-12th grade)
ELECTRONICS
It's electric! Learn the basics of electronic circuitry and soldering and create your own electrical masterpieces.
Led by: Natalie Carrion
MATH LAB
Enter the world of game theory and prepare for math to become FUN as you strategize with and against others in various games and challenges!
Led by: Nolan Boucher and Ray Min
METEOROLOGY
Put on your meteorologist coat and get ready to explore climate, weather and more. You'll even get to host your own TV weather segment like a real weather forecaster!
Led by: Jennifer Sutcuoglu and Lance Kelly
MUSIC SCIENCE
Discover the science of music through fun hands on activities like creating sound waves, building your own instrument and much more!
Led by: Natalie Carrion (4-5th grade) and Jennifer Sutcuoglu (2-3rd and 4-5th grade)
NEUROSCIENCE
Anatomy! Psychology! Physiology, oh my! We're diving deep into the world of neuroscience with hands on activities and labs.
Led by: Diana Kodra, Lance Kelly, Jennifer Sutcuoglu
ROBOTICS
Learn the basics of coding to build a robot and teach it to perform a variety of tasks and compete in team challenges.
Led by: Natalie Carrion (2-3rd grade) and Diego Morales (4-5th grade)
ROCKETRY
It actually is Rocket Science! Design and laser cut fins, nose cones and other fun accessories for your rocket, then prepare for an epic launch at the end of class!
Led by: Max Fischer
You are not required to register for all Saturday classes, simply choose the session(s) you're interested in in the registration portal.
COVID-19 Health & Safety Policies
Click here for COVID-19 Policies
*Check-in (8:30am) and check-out (12:30pm) will take place outside of the main entrance located near the rear of the building. In an effort to reduce crowding, a staff member or volunteer will help you check-in your child outside so you do not have to enter the lab. If someone other than you will be picking up your child, please notify Suncoast Science Center (SSC) staff so that person's name can be added to your account.
*Staff, volunteer and participant temperatures will be taken at check-in. If any participants' temperature is above 100.4, you will be required to take your child home.
*Staff, instructors and volunteers are required to wear face coverings. STEM Saturdays participants under age 12 are highly encouraged to bring and wear their own face covering but it is not a requirement. Participants over age 12 are required to wear a face covering. In the event a participant does not have a face covering, we will have extras available. If a participant over age 12 is unable to wear a mask due to health issues, please contact SSC staff to discuss.
*Laptops, lab equipment and other tools used during STEM Saturdays classes will be sanitized before and after use using EPA approved cleaning products. Antibacterial soap is available in all restrooms to promote frequent handwashing and hand sanitizer is also available throughout the lab.
*To reduce unnecessary contact, please feel free to pack a snack for your child to enjoy during the designated snack time. Your child may also bring a refillable bottle for water which will be available at the lab.
*Students should wear comfortable, fitted, casual clothing and closed-toe/closed-heel shoes. Gym or tennis shoes – NO SANDALS or FLIP FLOPS. Loose clothing and jewelry are not permitted for safety purposes and long hair must be secured.
Any additional questions? Call us at 941-840-4394 or email info@suncoastscience.org.