Together, we have been a part of something special. When the coronavirus took our world, country and local community by storm earlier this year, none of us had the answers. This was an unprecedented pandemic that we couldn't have prepared for. As we ascertained more about the impact the crisis may inflict on our community, we recognized we needed to leverage our organization's special resources to make a difference. We heard firsthand from healthcare workers that Personal Protective Equipment (PPE) was nonexistent although their will to fight for the health and safety of the community was as present as ever. Resorting to using bandanas or often times, going completely without protection, was not an option. But we couldn't solve the problem alone, nor would we want to as collaboration is at the core of our values. With some help from supporters and friends in the media, we were able to reach YOU. You, and 260+ other volunteers, who have made the Suncoast Science Center COVID-19 Face Mask & Shield Project a huge success.
Thank you for
Diligently sewing face masks and getting creative amid material shortages!
Designing face shield prototypes and then laser cutting thousands of them.
Assembling face shields and being understanding when adjustments were made along the way.
Offering your expertise and ideas to improve the masks and shields.
Donating the last of your fabric and elastic stashes.
Delivering completed masks and shields to healthcare workers who needed them.
Sharing our project with your neighbors, friends and family.
Making a donation to the project during the 2020 Giving Challenge.
And most importantly, stepping up to make a difference in your community and for the workers who don't have the opportunity to stay home during this time.
Because of you'
2,517 face masks and 2,351 face shields were produced for workers in need (We estimate volunteers poured at least 62,000 hours into these efforts!)
45 healthcare facilities, first responding organizations, doctors' offices and nonprofit organizations were provided 

protection

 (For the full list, click here)
Over $40,000 was raised to support the project
16+ news stories covered the project
As we see the demand for face masks and shields decline with increased availability through retail stores and manufacturers, we recognize it's time to transition the COVID-19 Project. Transition being the key word. Our community still needs YOU. As local businesses and organizations reopen and the "new normal" sinks in, other needs have emerged. As a community organization based on Science, Technology, Engineering, Art and Math (STEAM), we are continuing to innovate solutions to these needs and invite you to continue along the journey with us.
We hope you will take a few moments to complete this survey which will help us gather information for your future interest as we expand and develop our programs: https://bit.ly/fabvolsurvey.
With sincere gratitude for your time, talent and treasure,

Ping Faulhaber, Executive Director
and the entire Suncoast Science Center staff and COVID-19 team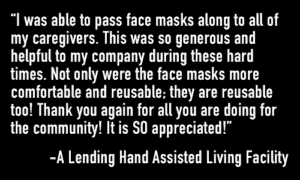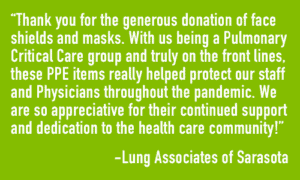 If 

you

 have an in-progress face mask or face shield assembly kit, we encourage 

you

 to complete it and drop it off at the lab as usual. We will make sure that your additional masks/shields are provided to a facility in need. Drop-off bins will be located on the east side of our facility (4452 S Beneva Rd, Sarasota FL 34233) through June 30.